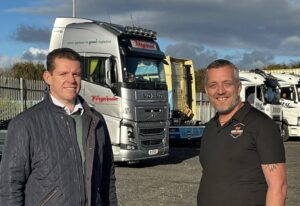 There are fears that the recent closure of the Roadking Lorry park has brought lorry parking troubles to Holyhead once again. 
Before the Roadking development, local residents were reporting regular problems with lorries parking and causing nuisance around the town. Now there are calls for help for a local company who have offered one solution to the problem that result from HMRC taking over the roadking site.
Kevin Bryant and Paula Goodsir of Goodsir Coaches have opened a Truckstop on the Penrhos industrial estate. Already, they have built a loyal customer base, but the site needs further investment in order to make it a permanent arrangement.
Kevin Bryant said – "This is a good business opportunity, creating jobs locally, but it's a response to a problem that we have here, we need spaces for lorries to park around Holyhead."
Rhun ap Iorwerth, Senedd member for Ynys Môn, who has been supporting Goodsir coaches and their enterprise, and has written to Anglesey County Council and the Welsh Government to seek their support.
He said – "I know from past experience the nuisance caused by the lack of proper lorry parking facilities in Holyhead. I'm already hearing reports of lorries parking around the town and as we look for a new solution, here we have what could certainly be a part of the answer and I'm hoping this local company are given the support they deserve – it will not only help them, but also the town of Holyhead.