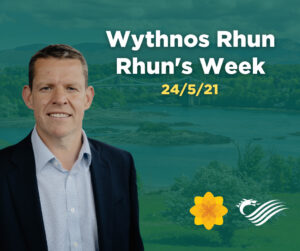 Meeting
I had a briefing with Alaw Môn, the plan to have a Solar farm near Llyn Alaw. It is an unprecedented period of growth in the renewable energy sector. But it is important that we look at exactly what the community gain is from the project. I will be looking closely at developments over the coming weeks.
RNLI – Trearddur Bay
I met the RNLI crew in Trearddur Bay, after they were out on the water rescuing a woman who was surfing the previous week. It was a great opportunity for me to thank them for their incredible work there. Thanks!
Meeting at M-SParc
I met with Pryderi ap Rhisiart at M-SParc to discuss a number of points including a Green Transport Event, Digital Cross Party Group, AgriTech and an update on the Hydraulic Thermal scheme. It was a very interesting meeting to discuss lots of exciting things.
Facebook Live session
A great Monday evening once again having a chat and answering any concerns that arise with constituents. Many joined the session again this week, and it was good to see so many reap the benefits of the session once again.
Housing Crisis
I asked the First Minister the first question of the new term in the 6th Senedd, and asked him for a statement on the housing crisis we are facing. It is a critical situation that the Government needs to address urgently. Too many young people are being priced out of their communities – this problem must be resolved before it is too late.
Respond to Covid-19 updates
I responded to the Covid-19 regulations update, commented on a few amendments and made a last-minute appeal to the Government to advise what action will be taken to allow things like parkruns to happen soon — sporting events that are so beneficial on for the body and mind, and to allow fans to watch Caernarfon against Newtown, this Saturday. These things can be done safely, and I urged them to do everything they could.
I also asked what preparations were in place for a 3rd wave, so that we could be prepared should that happen and minimize the risk of transmitting the virus.
Surgery
Like every week, I held my surgery to give people the opportunity to voice their problems or concerns and to offer them a solution or help.
Constituents
With the help of my team, I answered many constituents' emails and phone calls throughout the week.