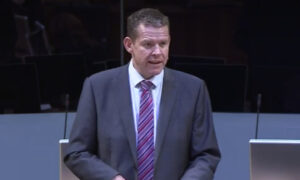 COVID-19 UPDATE
I responded to the Government's Covid-19 update. Overall I was pleased that the Government agreed with my calls for the regulation of mask wearing to remain in place. But I called for clarity on the measure the Welsh Government will use when the time comes to confirm the relaxation on the 7th of August.
Border Control Infrastructure
I asked the Welsh Government for an urgent statement on the developments at Holyhead port – we now know that HMRC has bought the Roadking truck stop, where people are going to lose their jobs – there is a clear lack of transparency and communication from HMRC. I hear that the Welsh Government may be moving their development from Parc Cybi to the Roadking development. The community of Holyhead and the people of Anglesey need to know what is happening as a matter of urgency.
CPG – Digital in Wales
I was re-elected chair of the Cross-Party Group on Digital in Wales. The group re-elected Menai Science Park as Secretariat and took the opportunity to launch AgriTech which is the use of technology and technological innovation to improve the efficiency and output of agricultural processes. That is, applying technology to improve all elements of the farming and growing processes.
Health
I met with the deputy minister for mental health to discuss Plaid Cymru's vision of establishing mental health hubs for young people across Wales. We also had the first meeting of the Health Committee in the 6th Senedd this week.
Jobs at stake at RAF Valley 
I spoke on Radio Cymru to discuss my concern at hearing that 70 jobs are at risk of being lost at the Royal Air Force site in Valley according to Unite Union.
I will be writing urgently to the Ministry of Defence for more information on their commitment to the affected staff.
Meetings
I had a number of meetings during the week including meetings with MônCF, Natural Resources Wales, Cerebral Palsy Wales, NFU Cymru and FSB on small businesses.
Facebook Live
Another Monday night and another Facebook Live session. Shorter session this week, but it was nice to catch up with constituents again this week to discuss issues arising around the pandemic or any other issue.
MônFM
I recorded my weekly bulletin which is broadcast on MônFM weekly, every Friday at 8pm – tune in!
Surgery
Like every week, I held my surgery to give people the opportunity to voice their problems or concerns and to offer them a solution or help.
Constituents
With the help of my team, I answered many constituents' emails and phone calls throughout the week.