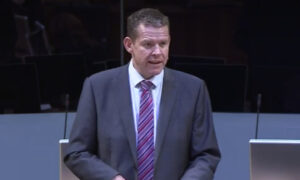 Rhun ap Iorwerth MS has condemned abuse to hospitality staff, following a string of concerns that have been posted online by local hospitality businesses in recent weeks. Dylan's, a North Wales restaurant chain, turned to social media this week to express the distress caused to their staff following "verbal and physical" abuse at their three North Wales restaurants.
He has previously called out abuse on supermarket and retail staff who have echoed concerns during the pandemic.
Rhun ap Iorwerth, Member of the Senedd for Ynys Môn, has offered his support to sector staff who are working tirelessly under continued Covid-19 regulations. He said:
"The abuse that staff at Dylan's and many other hospitality workers have had to face during the pandemic is utterly shameful. They are operating under strict guidelines to keep their customers and themselves safe, and deserve nothing but praise for that – even if it does mean that you are having to wait slightly longer for your food and drink.
"I've worked in a bar myself, you work hard to try to give the best service you can under normal circumstances, so it's not a lot to ask customers to be patient and courteous whilst they continue to operate in circumstances that are far from normal. It's wholly unacceptable that a small majoirty of people feel the need to abuse staff, verbally and physically at what is a busy time for these businesses, who are trying to get back on their feet following months of lockdown. The same applies for staff working in retail and those key workers who have provided essential services over the last year. Abusive behaviour must be condemned and called out on."
He added:
"The pandemic has been hard for everyone, but abusing staff is never the answer – we rely on them, and they deserve our respect."