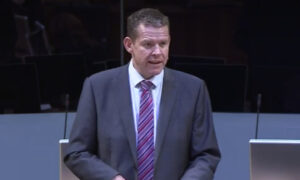 At the first Cross Party Group on Digital meeting in the sixth Senedd last week, Rhun ap Iorwerth MS was re-elected as Chair with M-Sparc re-elected as the CPG secretariat.
The meeting was attended by Members of the Senedd of all parties along with other organisations from the digital sector, and M-SParc took the opportunity to officially launch the Agri-Tech cluster in the Wales-wide forum. The Cross-Party Group was established to ensure that the nation is well-placed to benefit from the opportunities of the digital sector. The AgriTech Cluster promotes collaboration and innovation in a high-growth sector with economic benefits for the region.
In 2020 the UK invested £24 Million in AgriTech projects, leading to many exciting technological innovations in the agricultural sector, and the launch of the AgriTech Cluster will ensure north Wales can capitalise on this, helping the sector grow in the region.
Rhun ap Iorwerth MS said :
"I'm delighted to be re-elected as Chair of the Cross-Party group on Digital. I'm keen to ensure that Wales is well placed to benefit socially and economically from the sector, and the Cross-Party Group provides an opportunity for those innovating in the sector and those with an interest in driving the sector forward to come together to discuss ideas and share best practice."
Menai Science Park Managing Director Pryderi ap Rhisiart said:
"To be re-elected as Secretariat of the Cross-Party Group for Digital in Wales is a very exciting opportunity for M-SParc to be involved in helping to move the digital agenda forward in Wales, collaborating with elected officials and a wide range of experts at the forefront of this field."
"We are involved in many groups and projects in this sector and feel there is a 'movement' developing which we in north Wales can lead from the front on. There are clear opportunities in Digital in Wales across a range of sectors but there are challenges to overcome as well, and this gives us a platform to discuss those challenges and how best to build on the opportunities."
Rhun ap Iorwerth MS added: "I thoroughly enjoyed hearing about the AgriTech cluster project and its aims – it is the exact type of collaborative working that we need to ensure that the sector grows here in north Wales, and I'm excited to see it develop. "