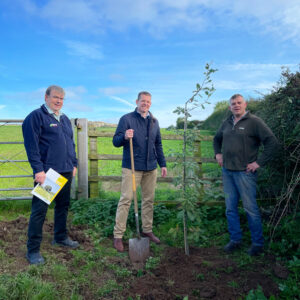 A new report detailing a strategy for sustainable woodland expansion in Wales has been launched by NFU Cymru.
Against the background of ambitious targets to increase tree cover in Wales to help mitigate and adapt to the challenges presented by climate change, the #GrowingTogether initiative promotes a philosophy to future tree planting in Wales that advocates more trees integrated into farming systems – rather than replacing farming systems, allowing food production, farming, trees, nature, landscapes, and rural communities to thrive.
Rhun ap Iorwerth MS said : "This is an important campaign led by NFU Cymru to promote tree-planting in Wales. I was delighted to join Brian Bown at his farm in Maenaddwyn today to plant this beautiful oak. It's vital, as we plant more trees for the sake of our environment, that we work closely with farmers to ensure that our land can be as productive as possible and used as effectively as possible in the battle against climate change."
NFU Cymru launched the #GrowingTogether report in September. The document is a blueprint identifying the barriers and opportunities that exist to deliver on these objectives while safeguarding thriving rural communities and ensuring the continued production of high quality, affordable food in Wales.