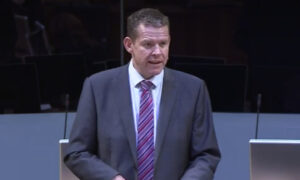 Responding to the "Coronavirus: lessons learned to date" report published today, which examined the initial UK response to the covid pandemic and calls the UK's early Covid-19 plans "one of the worse public health failures in UK history", Rhun ap Iorwerth MS has called once again for Welsh Government to launch a Wales-specific inquiry.
Spokesperson for Health and Member of the Senedd for Ynys Môn, Rhun ap Iorwerth MS said,
"This damning report details just how damaging the Prime Minister's failure to take early action was in shaping the UK's response to the pandemic. That ultimately led to huge losses of life, of freedoms, education and had a devastating economic impact, and is confirmed today as one of the worst public health failures in history.
"Wales rightly acted independently in so many areas during the pandemic but we cannot forget that the initial response was led by UK Government. Now, we must have a Wales-specific inquiry to look at what happened in detail, and in public, to learn lessons for the future.
"The Welsh Government must take responsibility for its actions – good and bad, and there should be no avoidance of detailed scrutiny. I, and many others have consistently insisted that the people of Wales are owed that."