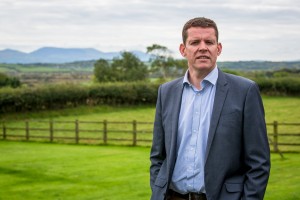 Rhun ap Iorwerth MS asks First Minister Mark Drakeford to give a full and clear commitment to tackle the housing crisis before it's too late.
In the first session of Questions to the First Minister in the 6th Senedd term, Rhun ap Iorwerth MS for Ynys Môn asked the First Minister Mark Drakeford to make a statement on the availability of housing in the local market in Ynys Môn, a huge issue that was raised on the doorstep during the recent Senedd election, and as part of a wider debate.
In his speech, Rhun ap Iorwerth MS said : "I think it's very appropriate that the first question of this new parliamentary term relates to an issue which is such a crisis, and one which people are insisting on having action upon. One clear contribution to the housing crisis is the uncontrolled growth in the second homes market. We see it on a daily basis – I see it in my own village, in coastal villages particularly. We see it in the dark windows of the winter and in the frustration of young people who can't afford a home in their own communities. We also see it in the increase of 16% in the cost of property on Anglesey. It's clear to me that things are getting worse every day."
Rhun ap Iorwerth MS added:
"It's important that we differentiate clearly between second home ownership and tourism. Indigenous tourism, locally owned, is very important, but an uncontrolled housing market doesn't help at all.
"This Labour Welsh Government needs to take urgent action, using every planning and taxation tool available, in order to bring some sort of control to the housing market, and to provide some hope and some chance for people in our communities."
First Minister, Mark Drakeford thanked Rhun ap Iorwerth for raising the question and responded, stating : "I agree with what Rhun ap Iorwerth said. We do need to use a number of the tools that we have with regard to taxation, planning, and some others, to draw them together to try to make a difference in the situation that he has outlined this afternoon, and to do it, if we can, in collaboration."