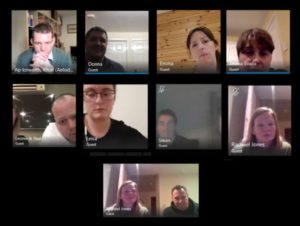 SCHOOL CONSULTATION: 'PLEASE LET THE COMMUNITY BE HEARD'
Talwrn activists say closure consultation should not take place during a pandemic
At a time when everything is being held virtually, campaigners battling to save Ysgol Talwrn from closure feel that their voices are not being heard because of the constraints of a pandemic.
At a virtual meeting held by Rhun ap Iorwerth, Member of Senedd for Ynys Môn, campaigners expressed serious concerns that the restrictions in place due to Covid-19 had affected their ability to effectively oppose Anglesey County Council's plans. They have called on the local authority to delay the consultation process until they can object fully and fairly to the proposals. The plans would see Ysgol Talwrn close, with pupils being transferred to Ysgol y Graig in Llangefni, which would be expanded to accommodate additional pupils.
Last week, the Council's statutory consultation period came to an end, but campaigners claim the system has not been open enough, and plans are being pushed through at a time when children are being educated from home and when groups cannot meet face to face to fully raise their concerns.
Rhun ap Iorwerth MS said:
"At a time when we are very limited in what can be done to oppose the proposed closure of Ysgol Talwrn, campaigners have approached me because they want a fair opportunity to have their say."
Mr ap Iorwerth has previously written to the Council asking them to delay the plans until we are on the other side of the pandemic, but has been told that the process cannot be delayed forever.
He added: "While I understand that the Council has to deal with issues other than Covid-19, there is a community that cannot fully participate in the consultation process – they can't meet face to face, they tell me that covid restrictions, coupled with poor internet connection in the area, have affected their ability to meet in virtual reality, and as a result they feel like a "muted community."
This is the latest in a series of consultations on the future of Ysgol Talwrn, with the Council having already postponed the current process since March 2020 as a result of the pandemic.
Rachael Jones, a childminder from Talwrn said she believed the school should have a bright future:
"The school has recently been listed as 'Green', the Cylch is busy and my small business is busy as a result. I am concerned about the effect the closure of the school would have on my business, but I'm really concerned about the impact it would have on our community. I know some parents are not enrolling their children at school because of the threat of closure. "
Rhun ap Iorwerth added:
"Numerous consultations are bound to leave scars on a community, and the fact that opportunities to voice the community's views are so limited at the moment add to the feelings of unfairness. I will write to them again following this meeting to express their opinions"