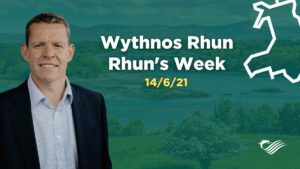 Meeting
I met with Andy from Anglesey Pursuits to film a video of him about the charity event he will be doing to raise money for Mencap Môn that cared for  his sister and the Alaw ward of Ysbyty Gwynedd. His sister was diagnosed with blood cancer when she was 52 years old, and to raise money, Andy will be kayaking from Ireland to Holyhead. I had the opportunity to go out on the water with Andy and film a little piece to share on social media next week.
For now, here is the link to donate to the cause if you wish – https://www.justgiving.com/crowdfunding/andy-williams-485
Cross Party Group
I co-founded and was elected co-chair of the long covid CPG. It was a great opportunity for me to listen to people who suffer from this condition, and to find out more about how it affects the lives of people across Wales.
Plenary – Government's Programme
I responded to the government's new program for the next 5 years. The First Minister referred to his Government's program for Wales as ambitious and radical. I am not convinced that it is this program of government that will provide the new direction Wales needs, and the transformation we need to create a more just and prosperous future.
I also responded to him on BBC Radio Cymru's program – Dros Frecwast.
Plenary – Climate Crisis
I raised my concerns, and those of many people, about the climate crisis we are facing. I reminded the First Minister that the situation was getting worse and that a financial model and strategy is needed to be put in place to tackle this problem.
Anglesey Column
I had the pleasure of congratulating Anglesey Column Trust after being told they were receiving a grant of £ 872,800 from the Lottery's Heritage Fund. This is the result of years of hard work, and I am delighted to have supported them with their application.
Now, let's look forward to seeing the work completed and the column open to visitors again – I have fond memories of climbing the spiral staircase as a child. The tower, visitor center, shop and café will be a welcome addition to our local heritage attractions across the island.
Note Men's Health Week
On my social media, I noted men's health week and shared the link for people to check their risk of prostate cancer. It is important that people are aware of the risk and to take action if necessary. Here is the link to check – https://prostatecanceruk.org/risk-checker?utm_source=nhspartners&utm_medium=affiliate-referral&utm_campaign=mens-health-week&utm_content=organic-video
Visit
I visited Mona Island Dairy Ltd, and I had a very welcome. I wish them all the best on their new venture, and it will be a huge boost to the agriculture and food sector here on Anglesey.
Visit
I visited Anglesey Training Center in Llangefni to see the fairly new company and how they have grown during the pandemic. Over the past year, they have offered training to a 1,000 people across Anglesey and Gwynedd.
Facebook Live
On Monday evening, I had the opportunity to host my weekly Facebook Live session. It was really nice to catch up with constituents again this week to discuss issues arising around the pandemic or any other issue.
MônFM
I recorded my weekly bulletin which is broadcast on MônFM weekly, every Friday night at 8pm – tune in!
Surgery
Like every week, I held my surgery to give people the opportunity to voice their problems or concerns and to offer them a solution or help.
Constituents
With the help of my team, I answered many constituents' emails and phone calls throughout the week.