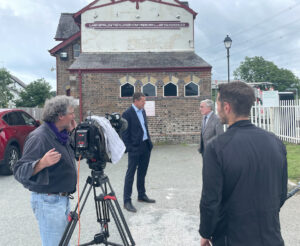 Holyhead Free Port
I asked the Welsh Government to undertake work on the economic impact of free ports. All options for new opportunities for the port of Holyhead need to be considered, for many years I have explored the possibilities of creating a free port. But it needs to be very clear about potential advantages and disadvantages.
Webinar
I joined the Anglesey Alaw Solar Farm webinar, I will be looking closely at developments over the coming weeks.
Plenary meeting
In rejecting a specific inquiry into Wales, the spotlight on what has happened in Wales is inevitably weakened. I called in the Senedd for a specific inquiry into how the Welsh Government has dealt with the pandemic.
Health
I asked about health service recovery, referring to several areas. It's worrying to think of thousands of people — over 4,000 according to Macmillan — who may not have had a proper cancer diagnosis. But I am concerned, of course, that what has happened in the last year is to amplify an existing problem, and one problem we had in cancer services was the lack of workers to diagnose patients.
I'm really worried about young people, right now, as restrictions are lifted. From my role as co-chair of the Long COVID cross-party group, I see a surprisingly high proportion of the people I talk to who have fallen ill through their work in health and care. I want to know what the Government is going to do to support them.
 IIGA – 5k Challenge
I participated in the IIGA 5k challenge which was virtual this year. My time running the 5k was 00:27:26 and I encourage many more to take part in the challenge.
Wales' Trains
I met with the Chief Executive of Transport for Wales to discuss two issues that many constituents have raised, the temporary closure of Valley and Llanfairpwll stations during the pandemic and the issue of congested trains on the north Wales line.
I expressed my disappointment that Valley and Llanfairpwll stations had closed since the start of the pandemic. Transport for Wales told me that they are still looking for a solution to this issue, including improved PPE equipment and training. In the meantime, they have made available a 'call a cab' option for passengers who want to travel from these stations to the nearest station to get on train services. I had an interview with the BBC about this issue.
Facebook Live
Another Monday night and another Facebook Live session. Shorter session this week, but it was good to catch up with constituents again this week to discuss issues arising about the pandemic or any other issue.
MônFM
I recorded my weekly bulletin which is broadcast on MônFM weekly, every Friday at 8pm – tune in!
Surgery
Like every week, I held my surgery to give people the opportunity to voice their problems or concerns and to offer them a solution or help.
Constituents
With the help of my team, I answered many constituents' emails and phone calls throughout the week.