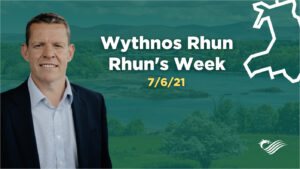 Meeting
I had a weekly meeting with the Isle of Anglesey County Council to discuss issues that arise on the island. At the meeting was the Chief Executive and Leader.
Facebook Live
On Monday evening, I had the opportunity to resume the Facebook Live session after a break over the half term holiday. It was really nice to catch up with constituents again this week to discuss issues arising around the pandemic or any other issue.
Plenary – Delta Variant
I informed the Health Minister that if we want to be able to protect public health and limit impact on the economy and tourism etc, we need to know that the Government is prepared to act quickly and in a way that is as focused as possible so that, hopefully, we can get things back to normal as soon as possible. The Delta variant is concerning, there is a need to make sure that some thing are in place to prevent its spread before things get worse.
Plenary – Health and Care Staff
I told the First Minister that the pandemic had highlighted the reality of the nursing workforce, including high work pressures, staff shortages, morale and low pay – a fair pay rise would go a long way in assisting recruitment and retention.
Note Carers Week
I took the opportunity in the Senedd to thank carers across Wales who work so hard, to care for loved ones and families and, through their work, ensure that the NHS is able to function and, in doing so, save billions of pounds. I asked the Health Minister, after speaking to many carers across Anglesey, what steps she would take to coordinate services and create a single point of contact to support carers, who really deserves that support.
I also joined a virtual event organized by Carers Trust Wales.
Elective Surgery
I wrote to the Chief Executive of BCUHB highlighting the pain that many constituents experience as a result of their operations being delayed.
We cannot ignore the fact that waiting times are already too high before the pandemic, and the Government and the Health Board must take action to tackle the long waiting times. Returning to the waiting times before the pandemic is not enough.
Welcomed £ 20 million Investment to develop a Cheese Factory on Anglesey
I welcomed the £ 20m investment to develop a cheese factory on Anglesey and create 100 jobs on the island. I have consistently called on the Welsh Government to invest in the food sector on Anglesey, including the possibility of creating a food production business park on the island.
I hope to be able to use the Mona Island Dairy development as a further catalyst to push for the development of this sector, building on existing expertise in many Anglesey food companies, to help them grow and create jobs. I will continue these talks with Ministers in the coming weeks.
Meeting
I had a meeting with Menter Môn, to catch up on everything going on recently.
Meeting – Porth Wen Solar
I met with Porth Wen Solar to discuss the project and it was an opportunity for me to identify any issues or concerns that arose about the project.
Visit
I went over to Holyhead to visit the new Bragdy Cybi site, the brewery looked very good and it was a very exciting time for the company as they expanded their business. While I was there, I went to Cymell, which is next door to see what they had planned.
In the afternoon, I had the opportunity to visit the Cambria site and Longford Rd, to discuss the latest with Hwb Cybi. Present were the Chairman of BCUHB, Councilor Trefor Lloyd Hughes, Councilor Glyn Haynes and others.
MônFM
I recorded my weekly bulletin which is broadcast on MônFM weekly, every Friday at 8pm – tune in!
Surgery
Like every week, I held my surgery to give people the opportunity to voice their problems or concerns and to offer them a solution or help.
Constituents
With the help of my team, I answered many constituents' emails and phone calls throughout the week.