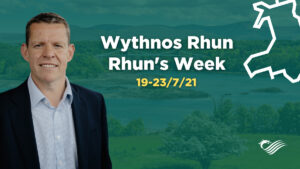 Interview for Dros Frecwast
I was interviewed on BBC Radio Cymru's Dros Frecwast to discuss the Welsh Government's announcement that all NHS staff in Wales will receive a 3% pay rise. We've seen year on year real wage cuts within the health service, and we need some way of bringing levels back to what they were.
Farm Visits
I had talks with the Island's Agricultural Unions – an opportunity to discuss topical agriculture issues with Union members at Trewyn farm and Tregynrig Farm. Some of the points discussed were NVZs, Broadband, TB on Anglesey. Talks about Solar Panels and Freeports were also discussed and I will act on these conversations.
Marie Curie event
I chaired the 'Dying Well in Wales Lecture & Discussion Series' event for Marie Curie. Kings College London was there and we had an update on the Marie Curie End of Life Program.
MônFM
I recorded my weekly bulletin which is broadcast on MônFM weekly, every Friday at 8pm – tune in!
Surgery
Like every week, I held my surgery to give people the opportunity to voice their problems or concerns and to offer them a solution or help.
Constituents
With the help of my team, I answered many emails and phone calls of several constituents throughout the week.
Reminded
The sun has been shining throughout the week, but I reminded people on social media to enjoy Anglesey and Wales safely! Although the rules are relaxed in England, rules here in Wales are different.