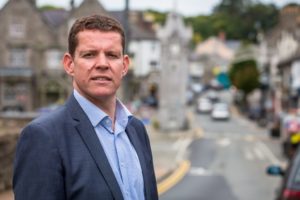 The First Minister's comments on the slowness of the Welsh vaccine roll-out is "very frustrating", Shadow Health Minister Rhun ap Iorwerth MS has said.
The First Minister of Wales Mark Drakeford said one of the reasons more of the supply had not been used at once was to prevent "vaccinators standing around with nothing to do".
Mark Drakeford also claimed that Wales falling behind England on vaccine rollout "isn't the most important thing" and that the variation between Welsh and English rollout numbers showed "very marginal differences"
Rhun ap Iorwerth MS for Ynys Môn said,
"Wales appears now to be dramatically behind England in terms of vaccine rollout, so to see the First Minister being relaxed about the slow pace of the vaccine roll-out here is very, very frustrating.
"The most recent data from both NHS England and Public Health Wales demonstrates that Wales is lagging way behind. Figures from January 17 show that more than 3.7 million doses have been administered in England – almost half a million of which being second dose. In Wales figures from 16 January show 126,504 vaccines administered, including only 129 second doses.
"Comparing population sizes, if Wales was vaccinating at the same rate we'd have hit around 190,000. Comparing Wales and England isn't always useful – for various reasons, we're ahead on some things, and England ahead on others – it's swings and roundabouts. But where it's a four-nations programme, we need to know it's a level playing field.
"Welsh Government must give an update on vaccines made available for Wales – of each type – plus numbers vaccinated in Wales compared to England, using the different types of vaccine, and on the projected supply of vaccines in the weeks to come. Why are we rationing here?
"Transparency is crucial at this stage so that progress can be measured, and that both governments can be held accountable and questioned on progress where needed."