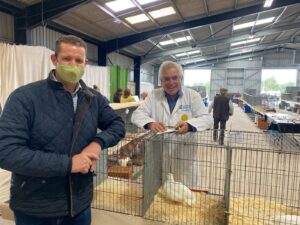 Today, the Anglesey Show's alternative – 'Sioe Fach Môn' was being held at the Mona Showground.
As a result of the pandemic it was not possible to hold the Anglesey Show as usual this year. The show usually attracts thousands of people annually to the show site in Mona. This year, the show crew decided to set up 'Sioe Fach Môn'.
The event featured limited classes including competitions in the Horse and Poultry Section, plus a Dog Show today, followed by the Horse Jumping tomorrow on the 11th of August.
Rhun ap Iorwerth MS visited the event today.
He said – "It was really nice to visit today's show site for 'Sioe Fach Môn'. Although it was a bit different from the usual, the atmosphere and competing was just as great. It's wonderful to see everyone enjoying and getting back to a bit of normality as people come from all over Ynys Môn and beyond to compete. "
"I am delighted that 'Sioe Fach Môn' has been a huge success, and I thank the staff for organising the event for everyone. We really hope that that the show can be held as usual next year, and congratulations to everyone who won!"