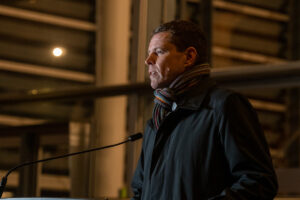 Rhun ap Iorwerth MS represents his party at candlelit vigil to mark White Ribbon Day 2021
 Today (25 November) is White Ribbon Day – recognised around the world as the largest global initiative to end male violence against women and girls by calling on men to take action to make a difference. Rhun ap Iorwerth, Member of the Senedd for Ynys Môn, attended and spoke at a candlelit vigil held on the steps of the Senedd earlier this week, organised by the National Federation of Women's Institutes – Wales.
Following the event, Rhun ap Iorwerth MS said:
"It was an honour to speak as one of the White Ribbon ambassadors in the event outside the Senedd again this year and to reiterate the White Ribbon promise to never commit, excuse or remain silent about male violence against women.
"In March of this year, the tragic murder of Sarah Everard generated a public conversation around girls and women not feeling safe in our society.  The reaction by some unfortunately showed that too often, as a society we place the onus on women to keep themselves safe, not on men to stop attacking women.  We must be clear that the responsibility to end violence against women and girls does not lie with women altering or modifying their behaviour, restricting their movements, or limiting their freedoms or fun. The onus sits with perpetrators not to commit these criminal offences."