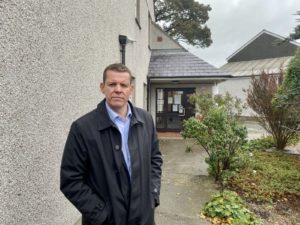 Rhun ap Iorwerth MS is calling on the Health Board to respond to the serious problems that still exist in the primary care provision in Holyhead according to constituents.
In October 2019, Rhun ap Iorwerth, Member of the Senedd for Anglesey, held a public meeting in Holyhead to discuss the primary care situation, after Betsi Cadwaladr University Health Board took over management of Cambria and Longford surgeries following the retirement and departure of several the GPs. It provided an opportunity for the residents of the area to come together to share their concerns, and to call on the Health Board to respond to those concerns as a matter of urgency.
The MS has remained in constant contact with the Health Board on the issue, calling on them to act quickly on releases for the short term, but to share their vision for better, durable, long-term provision also. Nevertheless, and ever since, concerns continue to flow in, and constituents are genuinely concerned about the additional impact of the pandemic on services that are already under considerable pressure.
Rhun ap Iorwerth MS said:
"I know that all practices are facing Covid's challenges at the moment, but for me, Holyhead is at a disadvantage from the start as problems are already so deep in the primary care service, before the pandemic hit."
"I just have to say a huge thank you to the staff who work tirelessly to try and serve in the town's surgeries at such a challenging time. But they need help. I know that staff at Longford Road and Cambria are very dedicated, and doing their best, and I also know that the town's other surgery, Victoria's practice, is still doing an excellent job too. "
"We need an urgent update from the Health Board on how they intend to address the issue. At the same time, an update is needed on the potential of developing a new primary health center for the town, with the possibility of offering one site for all the practices to work together. "
The Member of the Senedd has called on the Health Board to consider creating a town center development, tying up health and social, public service and economic boost by generating 'footfall' for local businesses. He has offered the old Woolworths site as one option to consider.
Rhun ap Iorwerth MS added:
"The old Woolworths building is an accessible building on foot from the street, for ambulances, and for cars from the adequate parking spaces at the rear. It is a very large space, and it is an idea that continues to attract strong electorate support. There is a need for innovation for Holyhead and the area – and at the heart of the town could create a community buzz around a modern multidisciplinary health center. "