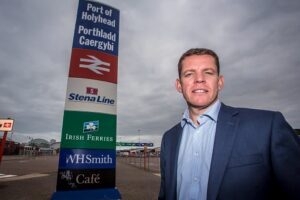 Rhun ap Iorwerth calls on Welsh and UK Governments to develop Holyhead as the servicing port for large scale green energy wind project.
Following a recent meeting with BP and Energie Baden-Württemberg AG (EnBW) regarding their Irish Sea offshore wind project – Mona and Morgan windfarms – in the Irish Sea, Rhun ap Iorwerth MS has called on both Welsh and UK Governments to ensure that Holyhead is the port to service the Mona windfarm.
When complete, Morgan and Mona will have a combined potential generating capacity of 3GW, sufficient to power the equivalent of approximately 3.4 million UK households with clean electricity.
The Member of the Senedd for Ynys Môn urged Welsh Government to commit to supporting the development in the port of Holyhead, emphasising that project would be of great economic benefit for both the local and Welsh economy.
In order to facilitate the servicing work in Holyhead, Rhun ap Iorwerth MS stressed the importance of investment in the port, stating that whilst BP have confirmed that their development would not be reliant on a freeport status to deliver the project, they have expressed that it could be of benefit. In response to his question, Vaughan Gething, Economy Minister put on record his disappointment with the current lack of clarity offered by UK Government on their freeport proposals around the UK. He agreed with Rhun ap Iorwerth that support and investment in the port is needed from the UK Government's £160m funding pot to develop ports for energy projects.
Rhun ap Iorwerth MS said:
"There's a very real economic opportunity for Ynys Môn from proposed the BP developments in the Irish sea—the Mona and Morgan windfarms. I'm very eager to ensure that Holyhead will be the port to service the Mona development. It would create jobs and provide long-term assurances. But we also need investment in the port for that to happen. BP have said that whilst they don't have to have free-port status to deliver the project, but if it could be useful, it would be good to see the UK Government providing the same funding to free ports in Wales as they give to those in England.
"More importantly, the UK Government needs to contribute from the £160 million pot that they have to develop ports for energy projects. I'm pleased that the Minister agreed with me that a fair share of that funding should go to Holyhead, and I will keep making the case for that to happen."