The voices of local residents who attended a packed public meeting in Holyhead recently regarding the lack of GP services in the area have been heard loud and clear after Plaid Cymru Assembly Member Rhun ap Iorwerth discussed concerns with the Health Board.
The Ynys Mon AM wrote to Betsi Cadwaladr University Health Board after organising the meeting at Millbank Community Centre last month as part of his campaign to see GP services restored to full capacity in the area, with two practices – Longford House and Cambria – currently being run by the Health Board due to difficulties recruiting and retaining doctors.
A response from the Health Board received this week showed that they are taking the concerns of residents seriously, with plans mooted for the short, medium and longer term to see services in the area restored to full capacity.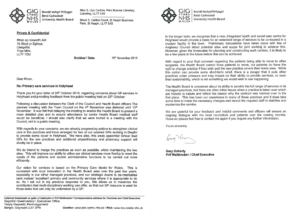 After receiving the Health Board's response, Mr ap Iorwerth said:
"The responses I've received from the Health Board show that it was very, very useful to have that public meeting, and the way that residents spoke at that meeting, raising their concerns in a serious, measured way, that I was then able to pass on to the Health Board, was worthwhile.
"What we have is an explanation of the steps being taken now to recruit doctors in the immediate future, as well as plans for the near future, and a vision for a new, modern vision for primary care in Holyhead and the surrounding area in the longer term.
"The truth of the matter is that this is an issue that should never have been allowed to come to fruition. Labour have been running the NHS in Wales for 20 years now and it is their lack of urgency, their lack of action, that has led us to this point where we have these real issues that are affecting the lives of people in and around Holyhead.
"I look forward to meeting Health Board officials in the new year to press them further for action on this matter, but once again I am very grateful for the input of local residents at our public meeting, as their contributions have been really useful."