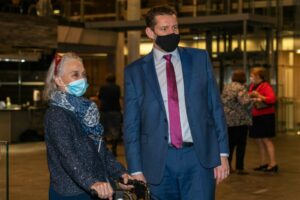 Rhun ap Iorwerth MS paid tribute and met with frontline nurses who worked tirelessly throughout the pandemic
In an event held by the Royal College of Nursing in the Senedd last week to thank our nurses, Rhun ap Iorwerth MS met with nurses from north Wales who have worked tirelessly through the pandemic, shown dedication to their patients and continue to provide high quality care day after day.
Rhun ap Iorwerth, Member of the Senedd for Ynys Môn, and  spokesperson for Health and Care said:
"It was a pleasure to attend the event to celebrate and speak with our fantastic nurses who have dedicated their lives to the profession. They have worked tirelessly throughout the pandemic and continue to provide quality care, day in day out.
 "Our nurses and healthcare workers have made huge sacrifices and they deserve a fair wage and meaningful support to make this an attractive career option for more people, and a robust retention strategy. I led a debate in the Senedd last month calling on Welsh Government to truly show their appreciation by implementing those recommendations and continue to support calls for a real-terms pay rise."