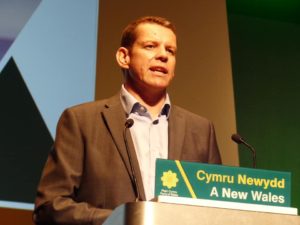 Ynys Môn MS demands end to disparity between health and social care worker pay
 The MS for Ynys Môn, Rhun ap Iorwerth has called for reform of pay, terms and conditions to bring in equality of treatment for health and social care staff.
In a debate this afternoon (Wednesday 17 March) in the Senedd, Rhun ap Iorwerth MS called for disparities to end, and for care workers to be paid a guaranteed minimum of £10 an hour.
Under current arrangements, all health workers in the NHS are paid at least the real living wage. That is not the case in the care sector.
A Plaid Cymru government would create a National Health and Care Service, with free social care at the point of need, with health and social care workers put on the same pay scales.
In the Senedd debate today, Rhun ap Iorwerth called on the "next Welsh Government" to introduce a guaranteed minimum of £10 an hour for all care workers.
The Labour Welsh Government has tabled an amendment which deletes this requirement and replaces it with a mention of a new forum – the Social Care Fair Work Forum – which it says is "looking at how to improve terms and conditions in the sector."
Rhun ap Iorwerth MS said,
"The public has clapped for our carers, now it's time for government to step up and put a value to the clapping.
"Plaid Cymru has made its commitment to our carers – in government, we will create genuinely seamless National Health AND Care Service, which will give care workers the respect they deserve, putting them on the same terms and conditions and pay scales as health workers.
"If the other political parties in Wales are serious about this, they will have the chance to back Plaid Cymru's motion in the Senedd today, and commit to delivering a reformed pay and retention settlement for health and social care staff, including a guaranteed minimum of £10 an hour for care workers.
"For our carers, who have put so much into looking after us during the biggest public health crisis in our lifetimes, it is the very least government can do for them"