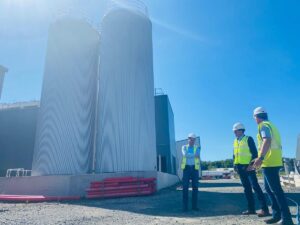 Today, the Member of the Senedd for Ynys Môn, Rhun ap Iorwerth asked the Minister for Rural Affairs and North Wales, Lesley Griffiths for a statement addressing the Government's plans to promote the food sector on Ynys Môn.
Rhun ap Iorwerth explained that the island's food sector was already very exciting, but that a clear investment is needed, and he noted that there was specifically a clear lack of appropriate property to be able to manufacture food on the island. He said:
"We see too many businesses having to retrofit units on the island to make them suitable to produce food, it's a very exciting sector on the island and in order to grow we need a fit for purpose food producing centre, that could also serve as a showcase for the fine produce we have on offer. I have long called on Welsh Government to invest in this idea."
Rhun ap Iorwerth MS recently visited Mona Island Dairy, a new cheese plant being developed on the island, and welcomed the news that a £20m investment would create 100 jobs on the island.
Rhun ap Iorwerth urged ministers to look at the Mona Island Dairy venture and use it as an opportunity to develop the sector further. He added:
"Why not use the recent Mona Island Dairy as a springboard to get the sort of investment that I'm calling for in a location or locations on the island? There is so much potential to create food but also to create jobs within a vibrant and exciting sector on Ynys Môn, and I proposed to the Minister that we work together to make this a reality and will continue to lobby the Government on this."