Ynys Môn Assembly Member Rhun ap Iorwerth has called for early action to ensure that ALL of Ynys Môn can achieve fast internet connection at the earliest possible opportunity.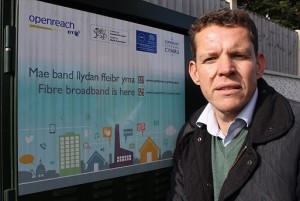 Mr ap Iorwerth recently hosted a meeting between BT and individuals and businesses currently experiencing problems with broadband speeds. BT are currently making progress on the Government-funded Superfast Cymru programme which aims to connect 96% of Welsh premises by June 2017, a year later than initially planned.
He has called on Welsh Government to identify those areas that are likely to lose out under Superfast Broadband Scheme, in order that other technologies can be put in place.
In the Assembly this week, the Plaid Cymru AM told the Deputy Minister for Skills "we're still looking at a situation where one in 20 premises in Wales will not have access to superfast broadband,"
He added: "It's a waiting game. If at the end of the waiting game they're going to find out that they haven't got access, frankly it would be better if they knew now."
Rhun ap Iorwerth AM, who is Plaid Cymru's Shadow Minister for the Economy said:
"It is vital that Ynys Mon is fully connected, and as technology develops through satellite, microwave, and next-generation mobile data technology, we need to realise that BT cable or fibre to the premises needn't be the be-all-and-end-all.
"For businesses and individuals it's fast connection that's important, not how the connection is made.
"If we identify early those areas the Superfast programme won't reach, we can look at using the Government help available to install alternative technologies."